SHE IS RADIO FLORIDA-- WSHE MIAMI / FT LAUDERDALE


Back in the early 70's, the term "super group" was first coined to describe a bands incredible musicianship and popularity. Certainly Jethro Tull was one of rocks earliest super groups. Twenty years after the release of Jethro Tull's "This Was" album (Chrysalis Records), the group is embarking on a tour of the U.S. in support of their latest L.P. "Crest of A Knave." (1988) Sales of the album have reached Gold in the U.S. and are fast approaching one million units worldwide. Chrysalis is also releasing The Jethro Tull Compilation: Twentieth Anniversary five album boxed set. We talked with Tull guitarist Martin Barre about the history of his group.

Q - You're really in an extraordinary position. You've seen rock grow from the 500 seat ballrooms of the Fillmore East and West to the $500 million a year concert business rock is today. The sound, the lights and the equipment are better, but have we lost something else in the growing process?

A - Well, it's interesting that you say that. I was just reading a quote from David Lee Roth - he indicated that the strobes and lighting were very much the icing on the cake, and meant very little. It surprised me that someone like that would have the attitude towards things like that. We tend to have a different approach. Maybe things come and go in circles. I think that big productions in the mid 70s were pretty much over the top. We had a heart beat going for 20 minutes, beginning of one concert tour and then a film in the middle, and things going on that had nothing to do with music, although the kids enjoyed it. In retrospect, it really didn't have a lot to do with getting up there and playing rock 'n' roll or whatever you call what you play. I think it went back after that to the sort of simple basic touring rock 'n' roll show, best of lights, best of p.a. but a simple show. Then, it's sort of gone back mid-80s to Pink Floyd production - strobe, lasers, all these really high tech lighting and staging things that they use. I think it really will come around again to the basic, well played music, with a very simple stage set-up.

Q - Where does Jethro Tull fit in today's music scene?

A - Economics dictate the way we have to produce concert tours. We're very much on a scaled down budget. We can't afford to lose money on the road, I don't think it's necessarily a bad thing. We don't short change anybody. We don't cut corners. It's a well-presented show as far as the stage and lights and sound goes. But because we haven't gone to any extremes in that direction, I think we put a lot more into the music and what we do onstage.

Q - One of the most interesting things about Tull is that you were constantly changing your style of music and the fans accepted it. I'm trying to think of a group today that could get away with that.

A - It's a brave move, but maybe on the other hand the something they can't change will be the death of them, because people eventually will have heard it all before.

Q - When you started out, did you ever think you'd be in the business for the long haul?

A - No, because I'm not a whiz-kid musician. I'm not a high tech player. I don't have the investments of musicality that people like Steve Vai or other guitarists who are brilliant have. They have incredible knowledge and technical ability. That's their investment in their business. I am surprised purely from that level, but really we all work hard. We're all relatively intelligent, normal, hard-working straight forward thinking people.

Q - Didn't Jethro Tull open for Led Zeppelin at one of the Fillmores?

A - The first American tour we played with Zeppelin, but Zeppelin was second on the bill to Vanilla Fudge. We were bottom of the bill. The second tour we supported Zeppelin the whole tour. We were their warm-up act. That was the tour that did it for us, established us a top act in America. We had a half an hour and about a foot of stage to work with. They took us off early if we went on late. It was a typical warm-up act deal. And in those days, it was the warm-up acts jobs to blow off the top band.

Q - Did you ever pull that off?

A - Rumor has it that we did. But, I don't like things like that. We went down really well and perhaps Led Zeppelin felt a little uncomfortable, but perhaps they didn't, (laughs). They were a great band. They were the kings of rock 'n' roll. They were 'the' rock band. They really were magnificent.

Q - You joined forces with Jethro Tull on the second album. What were you doing before that? How did you get the call?

A - I was just playing in rough 'n ready bands in England. I played flute and guitar. I think maybe it caught lan's eyes, the fact that I was playing flute. That's why he remembered me. I auditioned with everybody else and got through in the end.

Q - What have you been doing since Tull went off the road?

A - Off the road? I wouldn't say that we ever did really. We might not have had an album out for a year, but I can only think of two occasions ever, when we had maybe 9-10 months not playing music. When you've been playing the 10 years before, it doesn't seem like 9 months. You just kind of catch up with your life. The first time was after "Passion Play" and I can't remember what I did in the year that we didn't do very much. But then the other one would be when Ian did his solo album and I started building my own studio and started writing and playing. I never did any work that I got paid for. I just sort of settled about at home and got my studio technique up a bit and tried my hand at writing, which I continue to do.

Q - Does it bother you at all that when people think of Jethro Tull they think of Ian Anderson and might not know who you are?

A - They know me. It's a free world. If that's how people see the band, there's nothing I can do about it. The proofs in the pudding. They might not know who I am, 'cause I've lost a little weight and I haven't got a beard. We go on first for like a second build up to the first song, and there's a good reception. But when Ian comes on, it's like the place wipes out. That's all the proof you need.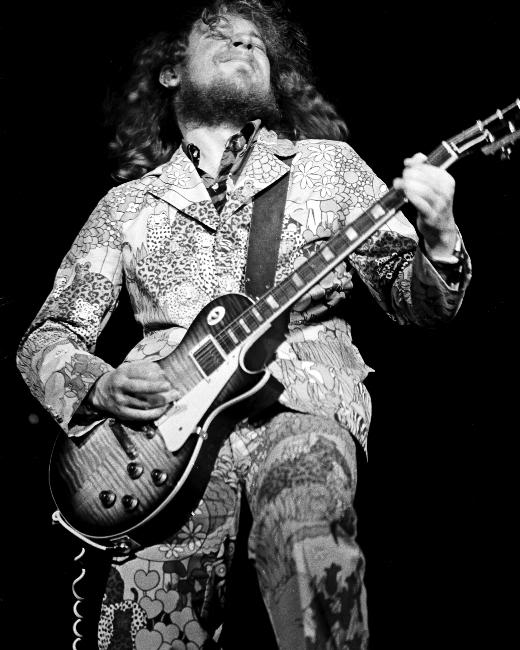 * Jethro Tull placed two singles in the Billboard Top 40
"Living In The Past" (#11 - 1972) and "Bungle In The Jungle" (#12 - 1974)

Be sure to visit WSHE Miami / Ft Lauderdale Radio Online SHE SOUTH FLORIDA RADIO