SHE IS RADIO FLORIDA-- WSHE MIAMI / FT LAUDERDALE



--Paul McCartney & Wings--

-Former Beatle Sir Paul McCartney Bio (Short Version)

Following his second solo album, Ram, in 1971, ex-Beatle Paul McCartney and his wife, Linda, formed Wings, which was intended to be a full-fledged recording and touring band. Denny Laine, a former guitarist for the Moody Blues, and drummer Denny Seiwell filled out the lineup and Wings released their first album, Wild Life, in December 1971. Wild Life was greeted with poor reviews and was a relative flop. McCartney and Wings, which now featured former Grease Band guitarist Henry McCullough, spent 1972 as a working band, releasing three singles - the protest tune "Give Ireland Back to the Irish," the reggae-fied "Mary Had a Little Lamb," and the hard-rocking "Hi Hi Hi" - in England. Red Rose Speedway followed in the spring of 1973, and while it received weak reviews, it became his second American number one album.

Later in 1973, Wings embarked on their first British tour, at the conclusion of which McCullough and Seiwell left the band. Prior to their departure, McCartney's theme to the James Bond movie Live and Let Die became a Top Ten hit in the U.S. and U.K. That summer, the remaining Wings proceeded to record a new album in Nigeria. Released late in 1973, Band on the Run was McCartney's best-reviewed album to date and his most successful, spending four weeks at the top of the U.S. charts and eventually going triple platinum.

Following the success of Band on the Run, McCartney formed a new version of Wings with guitarist Jimmy McCulloch and drummer Geoff Britton. The new lineup was showcased on the 1974 British single "Junior's Farm" and the 1975 hit album Venus and Mars. Wings at the Speed of Sound followed in 1976, and it was the first Wings record to feature songwriting contributions by the other bandmembers. The album became a monster success on the basis of two McCartney songs, "Silly Love Songs" and "Let 'Em In."

Wings supported the album with their first international tour, which broke many attendance records and was captured on the live triple album Wings Over America (1976). After the tour was completed, Wings rested a bit during 1977, as McCartney released an instrumental version of Ram under the name Thrillington and produced Laine's solo album, Holly Days. Later that year, Wings released "Mull of Kintyre," which became the biggest-selling British single of all time (at the time of its release), selling over two million copies. In 1978 Wings followed "Mull of Kintyre" with London Town, which became another platinum record. After its release, McCulloch left the band to join the re-formed Small Faces, and Wings released Back to the Egg in 1979. Though the record went platinum, it failed to produce any big hits.

Early in 1980, McCartney was arrested for marijuana possession at the beginning of a Japanese tour; he was imprisoned for ten days and then released, without any charges being pressed. Wings embarked on a British tour in the spring of 1980 before McCartney recorded McCartney II, which was a one-man-band effort like his solo debut. The following year, Laine left Wings because McCartney didn't want to tour in the wake of John Lennon's assassination; in doing so, he effectively broke up Wings, which quietly disbanded as McCartney entered the studio later that year with Beatles producer George Martin to make his 1982 album Tug of War.
In a New York studio, Paul and Linda put the finishing touches on the single "Another Day" from the 1971 album Ram.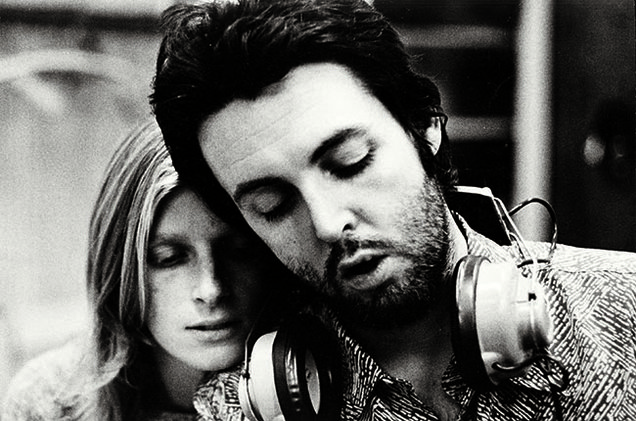 Be sure to visit WSHE Miami / Ft Lauderdale Radio Online SHE SOUTH FLORIDA RADIO