SHE IS RADIO FLORIDA-- WSHE MIAMI / FT LAUDERDALE


"They're a good band. All these guys need is a gimmick" - Alice Cooper, after seeing Kiss in February, 1974, in Los Angeles.

While Alice Cooper was only joking, rock fans have taken Kiss quite seriously, making them one of the most successful rock bands of all time. To date, Kiss has sold somewhere between 60-80 million records worldwide. From 1976-1979 Kiss was voted "Most Popular Group in the World", over the Beatles and Led Zeppelin. Kiss also holds the record for the most albums in the Top 100 Simultaneously, charting with 5 entries. The only other artist to come close is Elvis Presley.

Kiss have just released their twenty-third album titled, "Hot In The Shade" (Polygram), with a 70 city tour to support it. For an inside look at what Kiss is all about, we spoke to singer / songwriter / guitarist and founding member - Paul Stanley.

Q - I see you've got a Syracuse connection on your latest album. Former Syracusan Bob Halligan co-wrote a couple of songs with you for the album.

A -. Right. Somebody suggested we get together. I'm always open to writing with somebody new. And, we clicked, and the rest is on vinyl.

Q - Or on CD or cassette.

A - Whatever your preference.

Q - A few years back, Kiss was awarded $520,00 in a lawsuit against your record company. How does that affect your working relationship with Polygram?

A - That's a question we don't get asked often. Whatever differences we've had, have always been resolved honorably, and obviously our re-signing for another ten years is only more affirmation that we have a really good relationship. We did recently sign a new contract, so that wouldn't be the case if there was any animosity of bad feelings.

Q - Once a group like Kiss achieves everything a band could achieve the Gold and Platinum albums, the sell-out tours, the cover stories in magazines, what else is there?

A - Oh, a couple of things. What keeps us going is we like what we're doing. We don't do it for any other reason. We want to make music. We like what we do. The idea of being the band that sells the most records or this month's "Band of the Month" is not really what's appealing to us. We got where we got, just by staying true to what we do. We wanted this time to go out with the ultimate Kiss show. When people think of the 70's shows and they see photos, we wanted to go out with the modern son of that ...the next step. Certainly, it's obvious when you see bands on tour, most of them are doing Kiss shows. So, we said, what the hell, why don't we do a Kiss show with Kiss in it. The challenge of doing over two hours and playing over 20-25 songs and touching all periods, and different styles of whatever we've done in the last 15-17 years, was the challenge for us.

Q - Your name is brought up so often by members of younger bands coming up. They always remark how well you sing and dance — at the same time.

A - (Laughs). I can walk and chew gum too.

Q - No, I'm not trying to be sarcastic here. This is serious. Did someone teach you how to move onstage or does it just come naturally to you?

A - Oh, God, it's funny, because when I see trained dancers, they really intimidate me, because the whole way I do what I do, I don't know what the heck I'm doing. The truth is, maybe sometimes ignorance is bliss. You're at your best when you don't know what you're doing. I just let my body go where it wants to go. Always.

Q - Over the years, Kiss has managed to be scandal free. You haven't had run-ins with the police or been busted for drugs. This is kind of unusual for a group, isn't it?

A - Well, all that mystique or intrigue with either the law or drugs, is such a load of crap. It's usually a cheap way to get publicity.

Q - But, it works.

A - And it works. But, the truth is it doesn't work for the long-run. Whether you're trying to get press because you do drugs or because you suddenly decided not to do drugs, it's all just cheap publicity. To me, it's like - shut-up and play your music. The music has either got to do the talking or not. All the rest is irrelevant, as far as some kind of fascination with some kind of rock 'n' roll lifestyle. And I say that with quotation marks around it. (Laughs). Very often, it's calculated, and it's press. That's all. If somebody really wants to know the scoop on drugs and rock 'n' roll, they should ask Jimi Hendrix, Janis Joplin, or Jim Morrison. Whatever they can say or can't say, says it all.

Q - When Kiss was starting off, you were playing a club in Amityville, N.Y. called the Daisy. Was that your only source of income?

A - At that point, I think I was driving a cab.

Q - The first three Kiss albums didn't do very well, did they?

A - No, not at all.

Q - It was the "Live" album that put Kiss over the top.

A - Sure. What happened was, by the time we did the "Live" album, the band was very well known, because the way we looked made us very newsworthy. People somehow confused fame and fortune. The fact that we were famous; we couldn't sell a record, and we certainly had no money. I was living in a furnished apartment when we were literally in every rock 'n' roll magazine. So, we began to see towards the third album that a lot of people were coming to see us. There was a discrepancy between the amount of people who were coming out to see the shows and buying the records. So, we said, wait a minute, let's put out a 'live' album. That's almost a souvenir of the concert. Maybe we'll sell 250,000 albums, which is what we were hoping for. Well, that turned out to be 4-5 million sales for just that one album.

Q - Kiss released their first album in 1974, the year that Alice Cooper decided to take off. Had you released your album the following year, 1975, when Alice Cooper toured behind his "Welcome To My Nightmare" album, do you think things might not have worked out so well for you?

A - No, not at all. When something's good, there's no denying it. We weren't so much filling a void that Alice had left. Grand Funk had disappeared. Zeppelin albums were pretty few and far between. Alice wasn't doing anything. It seemed like a time when fame meant you don't work. You take a couple of years off. Had it been 1972, 1974 or 1975, it wouldn't have mattered, because when a Sherman tank wants to come in your house, it finds its way in. And we were coming in whether it was through the door or through the wall.

Q - You never let up on the touring either. For the first 3 years of your career, you toured 300 days a year.

A - We were doing that at a point when most bands were only playing what they considered the major cities. We were going into any place that had an arena or club or auditorium and really building up a grassroots following. Let's face it, those are the people who really count. Nobody can negate the large cities, but the fact is, why should someone suffer or have some kind of consequences for being born in Duluth, rather than Detroit.

Q - It was reported back in 1979, during your Dynasty Tour, that Kiss could no longer sell out Madison Square Garden for three nights in a row. Did that come as a surprise to you?

A - Whether you're selling out three nights at Madison Square Garden or whether you could only do two or heaven forbid, you could only do one, how many people could not smile at having 18,000 people in a hall to see them? I mean it's very peculiar and twisted how you can be so fortunate and yet somebody can look for the flaws. People like to see suffering. And the truth is, we've never suffered. There are some people who like to poke, looking for a wound. They're the first people at the accident, and not necessarily to help. We've always felt great. The idea is not how many nights you can sell out, sure, the more the better, but one is just as good. This isn't a contest, We're talking about long range and long-term success. Until The Who decided to tell everybody they were breaking up, they couldn't sell tickets. Well, you're not going to see us doing that. We're not going to give you this "last time you can see us" nonsense.

Q - You know how the press is, they're always labelling a group as "the next Beatles."

A - And that's usually the first sign of a quick death. If you're the next Springsteen, the next Dylan or the next Beatles, you're in a lot of trouble. Ask Steve Forbert. Ask the Knack. Whatever impact we've had, I think is obvious. And, it's not my place to talk about it. It's more my place to do what we do and have other people say what they will.

Q - You also said, "I think no matter how good you are, you reach a certain point where you don't have as much credibility. When you're 30 years old, you can't possibly rock the same way you did when you were 23. What do you say to that now?

A - Jagger is doing fine. There's a lot of rock 'n' roll being made now that's really good. Obviously, it's so good that new bands are copying it. So, maybe I surprised myself.

Q - I want your opinion on a couple of quotes by Gene Simmons. He told Rolling Stone back in 1977, "We're not a great band. The musicianship is average, maybe even below." Do you see it that way?

A - No, I think Gene sometimes says things for effect. When something has this much impact, there's obviously something going on there. While it's true; maybe he was saying there was no virtuosity in the band, rock 'n' roll isn't made by virtuosos. The best rock 'n' roll is made by people who can best communicate with other people. It doesn't have to do with how good you are, but how good you are at what you do.

Q - Gene also remarked, "When the make-up goes, then Kiss goes as a concept." What then is the concept behind Kiss today?

A - Well, I never believed that, and that's why when you do an interview, you quote a person by name. I have always believed and proven to be right, that Kiss was the first and foremost a killer rock 'n roll band, and everything else is the extra stuff that makes something even bigger. Had it been the case that the make-up and the boots and all those things which were very important to us and we look back on with a lot of respect, had those things been all we were, obviously when we took the make-up off, the band would have ended. Time tells all. Time is the equalizer. Whether it's 5 or 10 years later, you have to look and see who's still around and who isn't. Whatever somebody's opinion is, it proves to be right or wrong in time.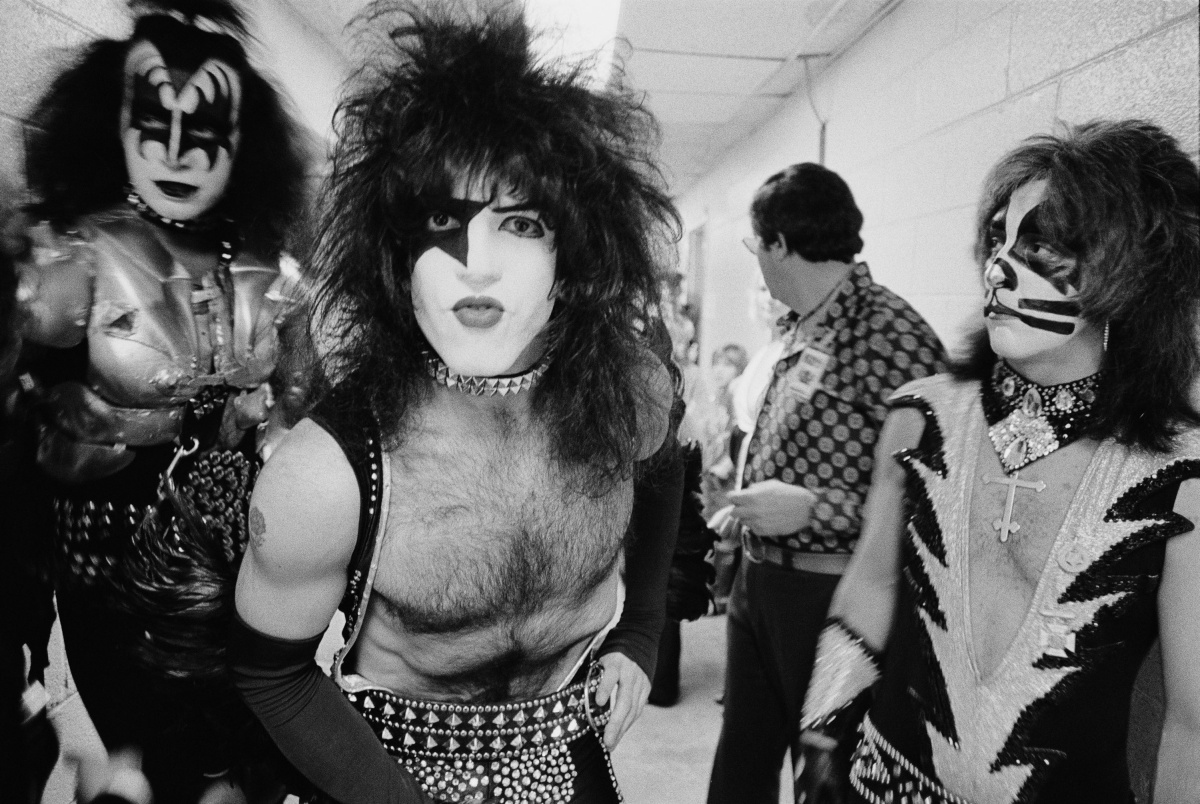 KISS-PAUL STANLEY (1975)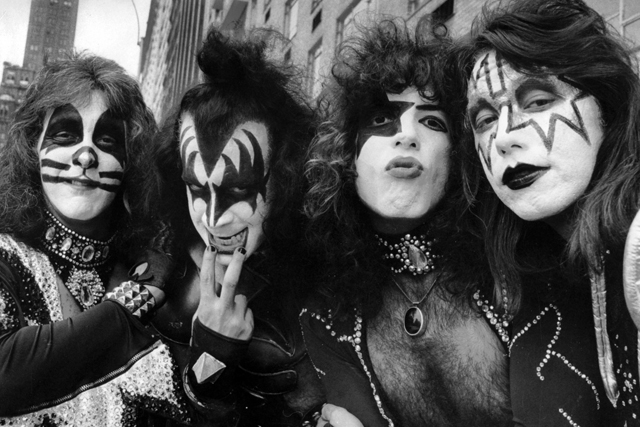 KISS-PAUL STANLEY (1976)
Be sure to visit WSHE Miami / Ft Lauderdale Radio Online SHE SOUTH FLORIDA RADIO