SHE IS RADIO FLORIDA-- WSHE MIAMI / FT LAUDERDALE


The Kinks were part of the British Invasion, and their early hits, "You Really Got Me" and "All Day and All of the Night" paved the way for the power chords of the next decade's hard rock. But most of leader Ray Davies' songs have been chronicles of the beleaguered British middle class, scenarios for rock theater, and tales of show-business survival. After their first burst of popularity, the Kinks became a cult band in the mid-Seventies until, buoyed by the new wave's rediscovery of the Davies catalogue, they returned to the spotlight in the Eighties.

Ray Davies was attending art school in England when he joined his younger brother Dave's band, the Ravens, in 1963. In short order Ray had taken over the group -- renamed the Kinks -- retaining bassist Pete Quaife and recruiting Mick Avory to play drums. With this lineup they secured a contract with Pye Records in 1964 and released a rendition of Little Richard's "Long Tall Sally", which failed to chart. A second effort, "You Do Something to Me" met a similar fate. The band's third release would alter their fortunes as "You Really Got Me" went to #1 in England and #7 in the U.S. The following year "All Day and All of the Night" and "Tired of Waiting for You" both reached the Top Ten in the U.S. and set a pattern for future releases of alternating tough rockers ("Who'll Be the Next in Line") and ballads ("Set Me Free").

In 1966 the Kinks released two singles of pointed satire, "A Well Respected Man" and "Dedicated Follower of Fashion", indicating the personal turn Ray Davies' songs were taking. Their next album, The Kinks Kontroversy, though containing another hard-rock 45, "Till the End of the Day," was increasingly introspective, with songs like "I'm on an Island". Also that year, an appearance on the American TV show Hullabaloo resulted in a problem with the American Federation of Musicians that wasn't resolved until 1969 and prevented the group from touring the U.S. for some time. "Sunny Afternoon" (#14, 1966) from the "Face to Face" LP was their last hit of that period.

During their years of U.S. exile, Ray Davies became increasingly introspective; he later composed the first of many concept albums, "The Village Green Preservation Society" (1969), an LP of nostalgia for all the quaint English customs (such as virginity) that other bands were rebelling against. Dave Davies, who had been writing the occasional song for the Kinks almost from the beginning, had a solo hit in England with "Death of a Clown," actually a Kinks' song that he wrote and sang. More of Dave's singles followed ("Susannah's Still Alive," and "Lincoln County"), none of which repeated the success of "Clown." A planned solo album was recorded, but released in drips and drabs years later on collections. The Kinks' next LP, "Arthur, or The Decline and Fall of the British Empire", was, along with the Who's "Tommy", an early rock opera, written for a British TV show that never aired. The Kinks' next concept album, "Lola Versus Powerman" and "The Moneygoround, Part One" (#35, 1970), was built around the story of trying to get a hit record. "Lola," was undoubtedly the first rock hit about a transvestite, and reached #9.

The group then left Reprise for RCA, continuing to work on concept pieces, once again without hits. Nevertheless it acquired a reputation as a cheerfully boozy live band. Kinks' performances were known for messy musicianship and on stage arguments between Ray and Dave Davies, while Ray sometimes sprayed beer at the audience. This was chronicled on "Everybody's in Show-Biz", a double album split between Ray Davies' first road songs and a loose live set.

Concept albums became soundtracks for theatrical presentations starring the Kinks in the next years. "Preservation, Acts 1 and 2", "Soap Opera", and "Schoolboys In Disgrace" were all composed for the stage, complete with extra horn players and singers. For all of the elaborate shows though, the albums weren't selling.

The Kinks left RCA and concept albums behind in 1976. They finally scored a hit in 1978 with "A Rock 'n' Roll Fantasy" (#30, 1978). "Low Budget" (#11, 1979), aided by another successful 45, "(Wish I Could Fly Like) Superman" (#41,1979), became the Kinks' first gold record since the Reprise greatest-hits collection of their early singles.

In the meantime, new groups began rediscovering the Kinks' catalogue, notably Van Halen ("You Really Got Me") and the Pretenders ("Stop Your Sobbing"). The group, which had tightened up considerably onstage with the addition of former Argent bassist Jim Rodford in 1978, responded with "One For The Road" (#14, 1980), a double live album that was accompanied by one of the first full-length rock videos. It too went gold, as did "Give the People What They Want" (#15,1981).

Over the years, Ray Davies also produced two albums by Claire Hamill (for his ill-fated Konk Records), worked with Tom Robinson, and scored the films The Virgin Soldiers and Percy. Dave Davies finally came out with a solo album on RCA in 1980 and another in 1981. Both featured Dave on most of the instruments and achieved modest success.

The Kinks' third wind continued with "State of Confusion" (#12,1983), which gave the group its first Top Ten hit since "Lola": the delightfully nostalgic "Come Dancing" (#6,1983). A wistful ballad, "Don't Forget To Dance," cracked the Top Thirty later in the year. Other mid-Eighties activities included Return to Waterloo (1985), a film Ray Davies wrote and directed, incorporating Kinks music; and Ray having a daughter, Natalie, with Chrissie Hynde of the Pretenders in 1983. The relationship ended the following year.

Beginning with "Word of Mouth", The Kinks once again fell on hard times. None of the band's subsequent albums, on Arista, MCA, and Columbia, sold well. But the Kinks, with ex-Argent drummer Bob Henrit in place of Avory, continued touring. In 1990, the band was inducted into the Rock and Roll Hall of Fame, and in 1993 the group undertook its first U.S. tour in more than three years to promote the LP "Phobia". The album's first single, "Hatred (A Duet)" poked fun at the longstanding antagonism between Ray and Dave Davies that has led both brothers to quit the band on more than one occasion. .

Despite a lack of commercial success, the band's public profile began to rise in 1995, as the group was hailed as an influence on several of the most popular British bands of the decade, including Blur and Oasis. Ray Davies was soon on popular television shows again, acting as these band's godfather and promoting his autobiography, X-Ray , which was published in early 1995 in the U.K. Dave Davies' autobiography, Kink, was published in the spring of 1996.

The Kinks ceased performing in 1996 and Ray Davies started touring independently. Initially, he toured with the mainly acoustic 20th Century Man, An Evening With Ray Davies and Storyteller shows, accompanied by guitarist Pete Mathison. In more recent times, he has toured with a full band consisting of, among others, Toby Baron - drums, Geoff Dugmore - drums, Dick Nolan - bass, Gunnar Frick - keyboards, Ian Gibbons - keyboards, Scott Donaldson - guitar, Mark Johns - guitar, Michael "Milton" McDonald - guitar, Bill Shanley - guitar and Damon Wilson - drums.

In 1990, their first year of eligibility, the original four members of The Kinks were inducted into the Rock And Roll Hall of Fame, as well as the UK Music Hall of Fame in November 2005.

Pete Quaife, who had been receiving kidney dialysis for more than ten years, died on 23 June 2010 at the age of 66. Ray Davies dedicated his June 27th performance at the Glastonbury Festival to Quaife and performed several Kinks songs in tribute to him. Davies told the crowd, "I wouldn't be here today if it wasn't for him."

In 2011, Ray Davies was laid up for six months following the discovery of blood clots in his lungs. Although nothing has been officially announced, both Davies brothers have stated that they are open to a Kinks reunion.

Past members John Dalton, Mick Avory, Will Gosling and occasionally Jim Rodford have made several live appearances together, calling themselves The Cast Off Kinks.

On August 12th, 2012, Ray Davies appeared at the closing ceremony of the London Olympics where he performed "Waterloo Sunset". Unfortunately for American TV viewers, NBC chose to edit their coverage and Davies performance was not broadcast.

In February, 2014, The Songwriters Hall Of Fame announced that it would induct Ray Davies at a ceremony at New York City's Marriott Marquis Hotel on June 12th. Ray was responsible for all the group's U.S. Top 10 singles: "You Really Got Me", "All Day and All of the Night", "Tired of Waiting for You", "Lola" and "Come Dancing". Just days before the induction, Ray and his brother, Dave, were in contact by phone and e-mail, hashing over the possibility of a Kinks' reunion. Said Dave, "I'd say the odds of that happening are 50/50."

On June 11th, 2015 Ray Davies was honored with a London Legend Award at a ceremony held at the Camden Roundhouse. In September, The Kinks announced the release of an album of songs from the successful West End musical Sunny Afternoon, including the hits "You Really Got Me", "Waterloo Sunset", "Sunny Afternoon", "Dedicated Follower Of Fashion", "Lola", "All Day And All Of The Night" and others. The musical won 4 Oliver awards including Best New Musical, Best Actor In A Musical, Best Actor In A Supporting Role In A Musical, and Outstanding Achievement In Music for Ray Davies.

Ray and Dave Davies performed together for the first time in twenty years on December 18, 2015 when Ray joined his brother on stage at London's Islington Assembly Hall. The pair performed their 1964 smash "You Really Got Me" and re-ignited hope that the Davies brothers would put aside their years of bickering and animosity and reform the band.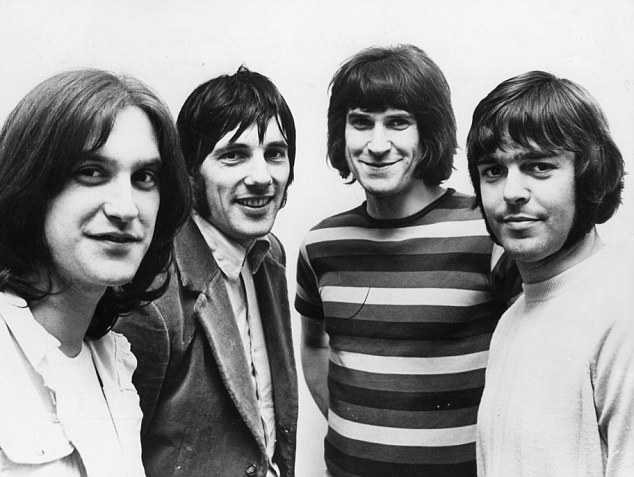 Be sure to visit WSHE Miami / Ft Lauderdale Radio Online SHE SOUTH FLORIDA RADIO